Le Belier Kikinda započinje globalni projekat pod nazivom ,,Foundry school", sa fabrikom u Kikindi kao lokacijom za razvoj i trening mladih stručnjaka sa budućom internacionalnom karijerom. ,,Foundry school" predstavlja plaćeni program stručnog osposobljavanja u trajanju od 18 meseci u fabrici u Kikindi. Pročitaj ceo tekst >>>
* * *
Metallurgical & Materials Engineering Congress of South-East Europe (MME SEE 2015) Crowne Plaza Hotel, Belgrade, Serbia, June 3-5 2015
Congress is financially supported by:

| | |
| --- | --- |
| The Ministry of Education, Science and Technological Development Republic of Serbia | Le Belier Kikinda |
| | |
Plenary lectures:
Prof. dr Boštjan Markoli
University of Ljubljana, Faculty of Natural Sciences and Engineering, Slovenia

Physico-metallurgical aspect of formation of core–shell and hollow nanospheres

Abstract

Nanotechnology literally means any technology on a nanoscale that has applications in real world. Nanotechnology encompasses the production and application of physical, chemical, and biological systems at scales ranging from individual atoms or molecules to submicron dimensions, as well as the integration of the resulting nanostructures into larger systems. Nanotechnology is likely to have a profound impact on our economy and society in the early 21st century, comparable to that of semiconductor technology, information technology, or cellular and molecular biology. Science and technology research in nanotechnology promises breakthroughs in areas such as materials and manufacturing, nanoelectronics, medicine and healthcare, energy, biotechnology, information technology, and national security.

Our research efforts were focused, on fabrication of hollow nanospheres produced via PLA in nitrogen ambient gas based on Al-O, Co-Pt and Sm-Fe(Ta)-N system, which could be technologically relevant in biomedical, magnetic and catalytic applications. The structure and composition of core-shell and hollow nanospheres were characterized by scanning/transmission electron microscopy (STEM/TEM), energy-dispersive x-ray spectroscopy (EDXS) and electron energy-loss spectroscopy (EELS). Combined STEM-EELS technique was applied to calculate nitrogen density and pressure inside the voids within individual nanospheres, providing data for reconstructing formation mechanism of core-shell and hollow nanospheres. Obtained results confirm the idea of generalized formation mechanism of core-shell and hollow nanospheres, where the spheres are nucleated at relatively high pressure and temperature in the plasma plume. Hollow spheres are afterwards formed by a combined mechanism of gas intake, gas condensation within the saturated liquid sphere and melt-solidification phenomena. The proposed formation mechanism opens the possibilities for the fabrication of metallic hollow nanospheres in various material systems.

Short biography

Prof.Dr. Markoli Boštjan received his PhD in metallurgy in 2000 and is now full professor at Department for Materials and Metallurgy, University of Ljubljana.

His research efforts are focused on the field of physical metallurgy with the special interest in:

Characterization of the constitution of metallic materials,
Design and synthesis of novel metallic materials with special properties,
Research, characterization and design of quasicrystalline materials,
Research and characterization of intermetallic compounds,
Transmission electron microscopy (TEM and HREM), X-ray diffraction and DSC analyses,
Fundamental research in constitution of multicomponent alloy systems and phase diagrams,
Fabrication and characterization of miscellaneous nanomaterials.
From 1993 until 2000 he was working on development of Al- alloys and characterization of parts for AUDI A6 space frame, development of Al-based alloys and characterisation of cast parts for AIRBUS 320 and characterization of gradational cast engine blocks for the Volkswagen AG.
He has been granted a CMEPIUS scholarship awarded by the Norwegian financial mechanism in 2010 where and spent one month at NTNU in Trondheim, Norway. In 2011 I he was awarded a Fulbright scholarship and spent 4,5 month working at NCEM, Lawrence Berkeley Laboratory, Berkeley USA working on nanontensile tests and HREM of deformation mechanisms in quasicrystalline alloys. He is also involved in development of high-strength aluminium alloys reinforced with quasicrystals, Protected Permanent Magnets for Advanced High-Temperature Applications and Novel Smart Filtration Media (NSFM). He is a member of Slovenian Society for Materials (SDM), Slovenian Society for Microscopy (SDM), Deutsche Gesellschaft für Metallkunde (DGM) and co-editor for Materials and Technology journal ISSN 1580-2949.
Prof. dr Kemal Delijić

University of Podgorica, Faculty of Metallurgy and Technology, Montenegro

Challenges and opportunities for aluminum based materials - Research and industrial perspectives in EU and SEE states

Abstract

The paper analyses challenges and opportunities for aluminum based materials in the context of the research, industrial perspectives and aluminium market in EU and SEE countries and also describes some industry's economics, strategic importance and close links to many downstream industrial sectors such as transport, construction, engineering and packaging.

The European aluminium industry represents the whole value chain of the aluminium industry in Europe, from alumina and primary production to semi-finished, end-use products and recycling. The demand for aluminium products in Europe is predicted to continue to grow with encouraging perspectives in all key markets. A strategic value chain for Europe can be illustrated through €36.8 billion annual turnover, 255,000 direct jobs and over 1 million indirect jobs within Europe and 16% of total global aluminium production.

An analysis of the research opportunities for Al based materials in the ligth of "Agenda for Action" developed by European aluminium industry in relation to the "Metallurgy Europe", a 7-year, 1bn€ program in the field of metals research and manufacturing, selected as a new Eureka Cluster will be presented. This research programme has identified 17 future material requirements and 50 cross-sectoral metallurgical R&D topics, to be funded during the 7 years.

Short biography

Prof. dr Kemal Delijic, born 1965 in Murska Sobota, Slovenia; graduate in metallurgical engineering (1990); MSc (1993) and PhD (1997) in technical sciences, University of Montenegro.

Dr Delijic is the full professor at the University of Montenegro, Faculty of Metallurgy and Technology. He is a member of the Montenegrin State Science Council, University Governing Board and MNE State Think Tank Team. He is also a member in the JRC Board of Governors, High Level Group of EU&AC and MNE representative in the Program Committee for "Nanotechnologies, Advanced Materials, Biotechnology, Advanced Manufacturing and Processing - Horizon 2020".

He held the position of the Dean of the Faculty of Metallurgy and Technology (State University of Montenegro) from 2007 to 2013. During the period 1990-2007 he held a variety of managing or teaching positions at the University, as Vice-dean (2002-2007), Head of the department (2002-2007), Member of the Board (1990-2002), Associate Professor (2002-2008), Assistant Professor (1997-2002) and Research Fellow (1990-1997). Professor Delijic was also involved in the negotiations on accession of MNE to the EU in the area of the Acquisis concerning the Chapter 25. In the period 2011-2013 he held the position of Montenegrin Delegate in the High Level Group of EU MS and FP7 Associated Countries on Nanosciences and Nanotechnologies.

His main research interests are related to new materials and technologies, Al-based materials, design of new light automotive alloys and processing methods, metal&ceramic matrix composites, composite bio-materials, nano-materials and quasicrystals, mechanical and corrosion behavior of materials.
g. Marjan Mačkošek
Štore steel d.o.o., Železarska cesta 3, Štore, Slovenia

Future prospects of steel
* * *
Proof reading Metallurgical & Materials Engineering Vol 21 No 1 2015
* * *
Poštovane koleginice i kolege, dragi inženjeri metalurgije,
Prateći uputstva Izborne Skupštine od 12.12.2014.godine pozivamo sve zainteresovane kandidate da se prijave za mesto Predsednika Saveza inženjera metalurgije Srbije.
Predsednik bi trebalo da ispunjava sledeće uslove:
Stručna sprema diplomirani inženjer metalurgije.
Višegodišnje učešće u radu Saveza inženjera metalurgije.
Plan rada za izborni period od četiri godine (2015-2019).
Finansijski plan za izborni period.
Preporuke relevantnih Ustanova i istaknutih članova SIMS-a.
Prijave dostaviti na e-mail adresu info@metalurgija.org.rs
Konkurs je otvoren do 31.01.2015. godine
Predsedništvo SIMS-a
* * *
Tradicionalno zimsko druženje metalurga
Poštovane koleginice i kolege,
Sa zadovoljstvom Vas pozivamo na tradicionalno Zimsko druženje metalurga koje će se održati u petak 12.12.2014. godine sa početkom u 16:00. Očekujte tradicionalni gurmanski meni i domaća pića.
I ove godine možete očekivati pristojne cene, 1500 din za muškarce i 1100 din za žene.
Ove godine će se tradicionalno zimsko druženje metalurga održati u restoranu domaće kuhinje Kafana kod Neše, Ljubomira Ivanovića 1 (bivša Vodovodska 13-ti deo) na Belim Vodama. Kako doći do restorana možete videti ovde.
Kako bismo na vreme rezervisali potreban broj mesta molimo Vas da se što pre prijavite. Kolege za kontakt su:
Zijah Burzić 063-264 072 zijah_burzic@vektor.net
Milutin Nikačević 069-301 3849 nikacevic.milutin@gmail.com
Do skorog viđenja!
* * *


Potreban 1 inženjer Tehnološko-metalurškog fakulteta, smer metalurgija, bez iskustva.
CV slati na mail kontrolinspekt@yahoo.com
Više informacija na www.kontrolinspekt.rs
* * *
Postovane koleginice i kolege,
Pozivamo Vas da prisustvujete predavanju kolege dr Srđana Milenkovića sa
temom:
Growth and properties of self-organized metallic nanowires and nanowire arrays
koje ce se održati u ponedeljak, 6.10.2014. godine na Tehnološko-metalurškom fakultetu u Beogradu sa početkom u 14 h u Svečanoj sali ili u sali 8 (u slučaju da renoviranje Svečane sale ne bude završeno).
Kratak abstract rada >>> Biografija dr Milenkovića >>>
Predavanje organizuju Sekcije za keramiku i metalurgiju SHD.
* * *
Dear Colleagues,
It is our great pleasure to invite you to attend the Metallurgical & Materials Engineering Congress of South-East Europe (MME SEE 2015) which will be held in Belgrade, Serbia, June 4 and 5 2015.
The Congress is organized jointly by the Association of Metallurgical Engineers of Serbia, Faculty of Technology and Metallurgy, University of Belgrade, Serbian Foundrymen Society and Metallurgical Academic Network of SEE Countries, and represents fusion of few scientific events. The Congress is supported by SEE Associations of Metallurgical Engineers; Balkan Union of Metallurgists and Chambers of Commerce of SEE Countries.
MME SEE 2015 will bring a wide range of related topics presenting the views from both academia and industry. Authors from universities, research centres and industries are invited to submit papers to the Congress. The event includes keynote lectures, scientific and technical presentations, technical tours as well as a comprehensive exhibition and remarkable social events.
For more information, please visit http://www.mme-see.org/
* * *
Postovane koleginice i kolege,
Pozivamo Vas da prisustvujete predavanjima koja ce, u organizaciji Tehnolosko metalurskog fakulteta, Saveza inzenjera metalurgije Srbije i Srpskog hemijskog drustva (Sekcija za metalurgiju), odrzati Prof. Jean-Marie DREZET, sa Ecole Polytechnique Federale de Lausanne (EPFL), iz Svajcarske, pod nazivom:
1. Internal stress generation during quenching of thick heat treatable Al alloy plates,
2. Rigidity temperature, hot tearing and stress generation in Aluminium castings.
Predavanja ce biti odrzana u utorak, 20. maja 2014.god. u 14h, u Malom
amfiteatru (MA) Tehnološko-metalurškog fakulteta. ceo tekst>>>


* * *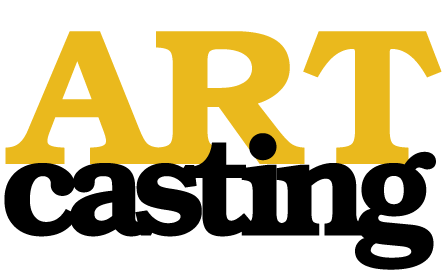 New course in organization of Innovation center of the Faculty of Technology and Metallurgy related to Art Casting. The art casting foundry class and practice is designed to familiarize students with the basics basic wax casting and working technique, gating and venting, ceramic shell and investment molding techniques. more information >>>

* * *
Jooble je Internet pretraživač posvećen jednom cilju, da Vam pomogne da pronađete posao vaših snova.
Na sajtu Jooble ćete pronaći sve oglase za posao sa celog interneta. Da li ste ikada čuli za tako nešto? Prema tome, sva slobodna radna mesta u Srbiji a takode širom sveta su sada dostupna samo na sajtu Jooble. I to nije zato, što je Jooble "najveći sajt za poslove u Republici Srbiji, "vodeći svetski resurs za zapošljavanje" ili tako nešto slično. Jedini razlog za to su odlike rada sajta Jooble: isto, kao i bilo koji drugi Internet pretraživač, Jooble ne čuva sve informacije u svojoj bazi podataka, Jooble ih pretražuje, i radi to mnogo bolje od bilo kog drugog. Kada vršite pretragu poslova sa Jooble, dobićete linkove ka poslovima sa više od 15 sajtova za zapošljavanje u Srbiji koji su najrelevantniji za vaš upit.
Stvorili smo Jooble da bismo uštedeli vaše vreme i energiju: na taj način možete da pronađete 100% željeni posao pomoću samo jednog upita. Za "sladokusce", koji vole da uzmu sve što im život pruža, stvorili smo različite alatke kao što su napredna pretraga i veliki broj filtera. Naš tim neprestano radi da bi pretragu poslova učinio što jednostavnijom. Jooble je u stalnom razvoju, dodajemo nove usluge i mogućnosti.
* * *
Železara Smederevo d.o.o. sa pogonima u Smederevu, Šapcu i Kučevu poznati proizvođač visokokvalitetnih toplovaljanih i hladnovaljanih proizvoda od čelika i belog lima traži visokoobrazovane kandidate za prijem u radni odnos Pogledaj ceo oglas >>>
* * *
Metallurgical & Materials Engineering Vol 19 No 1 2013
* * *
Valjaonica bakra Sevojno ad
Konkurs za posao za diplomirane inženjere metalurgije >>>

* * *
* * *
Metallurgical & Materials Engineering Vol 18 No 4 2012
Special Issue dedicated to Prof. Dr. Borivoje Mišković
* * *
Zimsko druženje metalurga, Restoran Đerdan, 14.12.2012.

* * *
Prezentacije, dobitnici Jubilarnih nagrada i fotografije sa održane Svečana Ekademije povodom Jubileja 60 godina od osnivanja Saveza inženjera metalurgije >>>
* * *
Poštovane koleginice i kolege,
sa zadovoljstvom Vas obaveštavamo da će se proslava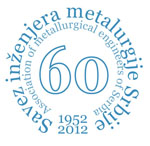 Jubileja 60 godina od osnivanja Saveza inženjera metalurgije Srbije održati 29. novembra 2012. godine sa početkom u 12 h u sali Doma inženjera Nikola Tesla, Kneza Miloša 9, III sprat. Tim povodom održati Svecana akademija na kojoj ce biti dodeljena priznanja i plakete, kako zaslužnim clanovima SIMS, tako i institucijama, koji su svojim radom i zalaganjem omogucili uspešan rad Saveza u proteklom periodu i biće prezentovana monografija "Savez inženjera metalurgije 1952-2012".
Molimo sve zaintersovane da se prijave na info@metalurgija.org.rs i proslede ovu informaciju svojim kolegama, kako bismo se okupili u što vecem broju.
Srdacan pozdrav

* * *
Poštovane koleginice i kolege,
sa zadovoljstvom Vas pozivamo na Zimsko druženje metalurga koje će se održati u restoranu Đerdan, Jelene Mioč 1 (vidi mapu), Beograd u petak 14.12.2012. godine sa početkom u 15:00. Očekujte tradicionalni gurmanski meni i pristojne cene (cca 1500 din po osobi).
Kako bismo na vreme rezervisali potreban broj mesta molimo Vas da se do petka 23.11.2012. godine prijavite na e-mail info@metalurgija.org.rs.
Za sve bliže informacije možete kontaktirati kolegu Vladislava Matkovića na v.matkovic@itnms.ac.rs ili 011-369 17 22.
Do viđenja u Đerdanu!
* * *
Metallurgical & Materials Engineering Vol 18 No 3 2012
* * *
Dear colleagues,
we would like to inform you that by decision of Editorial Board from 2012 Journal Metalurgija will be published under new name Metallurgical & Materials Engineering (ISSN 2217-8961). Volumes will continue numbering and you are still welcome to submit your work to our Journal.
Best regards
Editorial Board
* * *
Prezentacije sa Seminara
Metalurgija i Integrisana dozvola
održanog 8. decembra 2011. god. u Beogradu na Tehnološko-metalurškom fakultetu su dostupne na stranici posvećenoj skupovima u organizaciji SIMS-a.
* * *
Metalurgija Vol 17 No 4 2011
* * *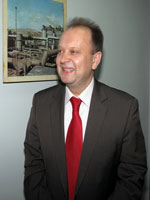 U Rudarsko-topioničarskom basenu Bor 23. novembra 2011. godine formiran je Savet za metalurgiju. Savet pretstavlja četvrto savetodavno telo koje će stručnim predlozima i sugestijama pomagati poslovodstvu kompanije u oblasti metalurgije. Njegov predsednik Prof. dr Željko Kamberović sa Tehnološko-metalurškog fakulteta u Beogradu, je izjavio da će Savet nastojati da razvije strategiju koja će kombinat bakra učiniti konkurentnim i modernim evropskim proizvođačem bakra-"Pored bakra, kao osnovnog metala, važni su i prateći, pa ćemo strategiju usmeravati ka retkim i plemenitim metalima koji se mogu dobiti iz primarnih i sekundarnih sirovina. Nastojaćemo, takođe, da povećamo količinu "sekundara" koji se prerađuje u Boru i iznađemo mogućnosti da sa što manje ulaganja popravimo bilans i povećamo uspešnost kompanije". ceo tekst >>>
* * *

Track your Submitted articles to Journal Metalurgija!
* * *
Novi Statut SIMS
* * *
Inovacioni centar Tehnološko-metalurškog fakulteta


* * *
Razvojne perspektive metalurškog sektora jugoistočne Evrope
Zapisnik sa panel diskusije

Palić 29.05.2010

Panel diskusiji je prisustvovalo 10 učesnika iz metalurškog sektora Srbije, Slovenije i Crne Gore iz uspešnih firmi, privredne komore Srbije i Slovenije, univeziteta i instituta. U disku-sijama je više puta naglašeno da su metalurgija i metaloprerađivačka industrija u jugo-istočnoj Evropi oduvek imali izuzetan tehnički, ekonomski i društveni značaj ... (ceo tekst)
* * *

Nove monografije u izdanju SIMS-a
1. Lokalni pristup žilavom lomu metalnih materijala-Marko Rakin
2. Održivi marketing tehnološkog razvoja preduzeća- Nikola Majinski
3.Prerada polimetaličnih sirovina i međupodukata obojenih metala- Miroslav Sokić, Branislav Nikolić, Željko Kamberović
* * *
Poštovane koleginice i kolege,
pozivamo Vas na Veče druženja u organizaciji Alumni TMF koji će se održati 27.11.2009. godine u Domu Armije (ukoliko se prijavi dovoljan broj učesnika). Orijentaciona cena će najverovatnije biti oko 1500-2000 din. po osobi.
Da bismo znali za koliko osoba da rezervišemo, molimo Vas da prijavite svoj dolazak na email adresu alumni@tmf.bg.ac.rs do 10. novembra 2009. godine.
Obavestite i povedite prijatelje i sve zainteresovane.
Srdačan pozdrav
Alumni TMF
* * *
Poštovane kolege,
u cilju formiranja baze podataka inženjera metalurgije Srbije i njihove bolje komunikacije na sajtu SIMS-a je postavljen formular. Na ovaj način bismo Vas u budućnosti blagovremeno obaveštavali o svim događajima i organizaciji SIMS-a kao što su konferencije, okrugli stolovi, prezentacije i najnovija izdanja.
Takođe, dobijali biste i obaveštenja o predstojećim Metalurškim večerima-sledeće je planirano u maju 2010 godine na Paliću u okviru Konferencije Processing and Structure of Materials.
Pored mogućnosti ostavljanja poruka, možete koristiti i FORUM za razmenu iskustava, mišljenja i sugestija sa članovima SIMS i drugim inženjerima metalurgije Srbije.
Srdačan pozdrav
* * *